Free_D partners with PrintLab to introduce 3D Printing to Disadvantaged Women in India
In today's post we are sharing an amazing initiative developed by social enterprise Free_D to help up-skill disadvantaged women in India. We happily supported Free_D's initiative with a 3D printer, materials, technical support and the Makerversity DIY curriculum. Check out the interview below where we sat down with Katherine Prescott of Free_D so she could tell us about their exciting journey.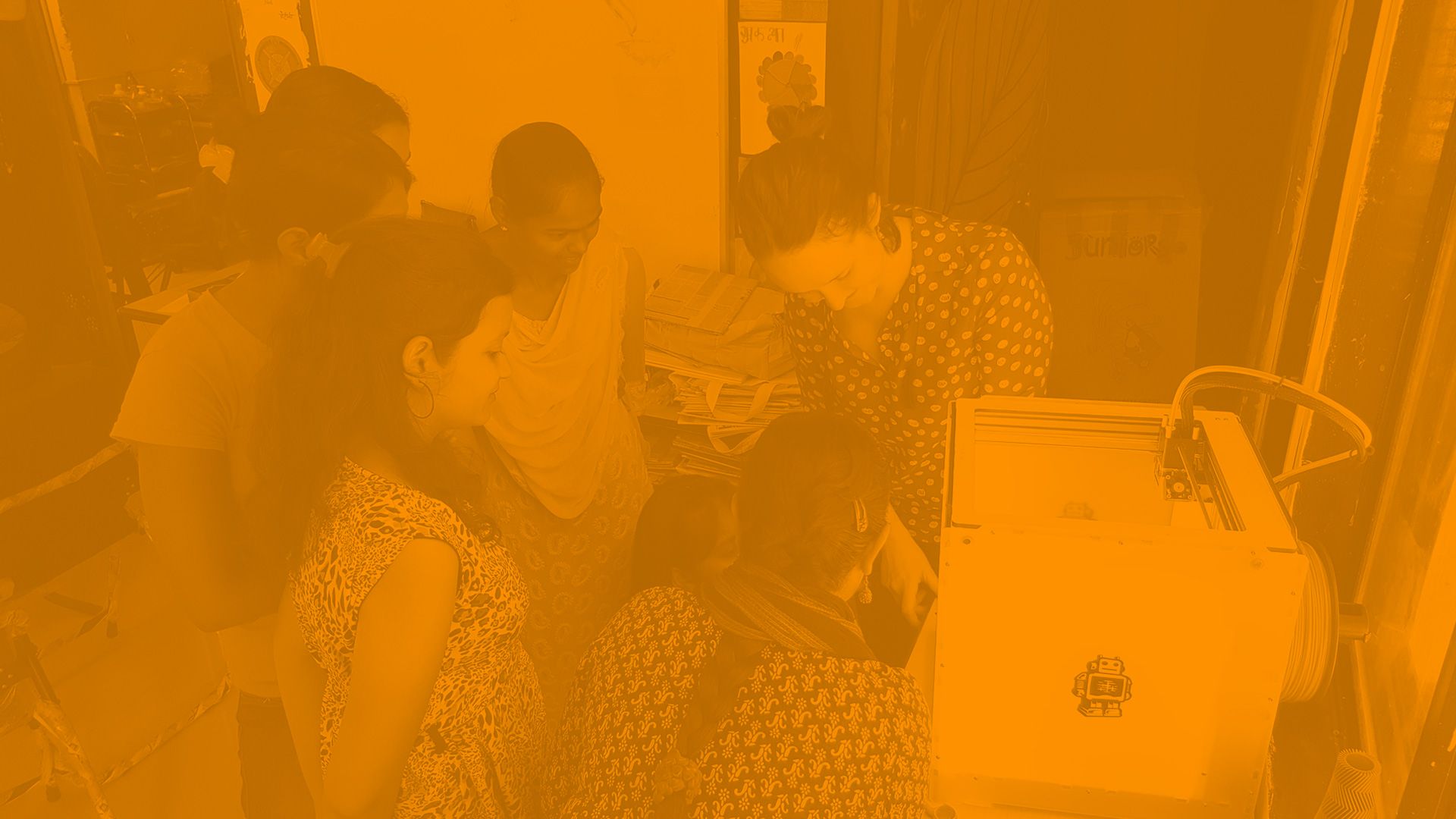 19th April 2017 • Case Studies
1. Firstly, could you give us some background information on Free_D? What is your goal and how are you setting about achieving it?
Our mission is to enable disadvantaged girls and women, including those who may have experienced trafficking, to overcome stigma and their traumatic experiences to excel academically and professionally.
We see huge potential in using 3D printing to up-skill women, enabling them to become engineers, designers, go on to further education or work in specialist industries by being an intuitive tool to teach advanced principles without requiring a formal education.
We've just come back from our first trip to Mumbai to sense-check our concept and run initial workshops armed only with an Ultimaker (kindly provided by Printlab India – Novabeans) and a few laptops. The response was overwhelmingly positive. The next steps are to fully develop our training programme and build on local partnerships. We will then run a longer pilot in India late Summer.
2. Why did you choose India as your focus?
Trafficking is a huge problem for India; it is estimated that 14M of the 35M people trafficked globally reside in the country, and the US State Department calls India the 'source, destination and transit' country for the majority of trafficking in Asia. Socioeconomic development, urbanisation and the development of megacities is exacerbating the problem of sex trafficking in India, making preventative and rehabilitative action an urgent priority.
The adoption of 3D printing in India is in the early stages relative to other countries in the world, with only a couple of companies such as Imaginarium and Novabeans pioneering the technology. The Made-In-India initiative of the current Narenda Modi government is helping to promote the growth of the market which is forecast to grow to $62M by 2022, with prototyping and industrial manufacturing applications for the technology driving the expansion.
The Free_D training programme aims to give survivors of trafficking access to this growing and profitable market.
3. Why did you choose 3D printing as your catalyst for rehabilitation?
 While current rehabilitation programmes do great work training and supporting disadvantaged women, these focus primarily on low-skilled or manual work such as housekeeping or factory work. These industries are low-paid and workers' rights are often disregarded.
We see 3D printing providing the opportunity for our apprentices to gain more aspirational skills in order to build a career or as a stepping stone to further education. 3D printing skills are applicable to a large number of rewarding career opportunities spanning industries from jewellery to engineering, architecture to medical.
3D printing is an intuitive way to introduce concepts of engineering without the needing a traditional educational background. Being able to manipulate or create an object using CAD and then see it built within the same afternoon without requiring heavy or complex machinery is very powerful.
There has been a lot of development over the last few ways to make CAD software easier to use. We enjoyed using Meshmixer with our students to mould designs like they would clay, providing a playful way to teach principles of design rules (will it print!? Or won't it?). 3D printing provides learning through a real-life trial and error approach, simply by experimenting with different machine settings such as speed, temperature and fluidity.
4. Can you outline the kind of workshops you gave in India?
We worked with a number of organisations in order to access as wide a demographic of disadvantaged girls and women as possible; some of our students had never touched a computer before and had no formal education while some students had experience coding in Python and were well versed already in the basic concepts of 3D printing. Our workshops ranged from afternoon introductory workshops giving an introduction to the potential of 3D printing to hands-on more intensive CAD training using a range of programs, such as Autodesk's 123D, Tinkercad and Meshmixer programmes, and challenging the students with design problems.
We have found that during our workshops, demo-ing the technology awakens curiosity into understanding how and why the things around us are made. Working with the teenagers at Slum Innovation Club from Dharavi, many of whose families make their living rag picking and sorting through and recycling waste, were particularly interested to learn about alternative and less wasteful ways of manufacturing items.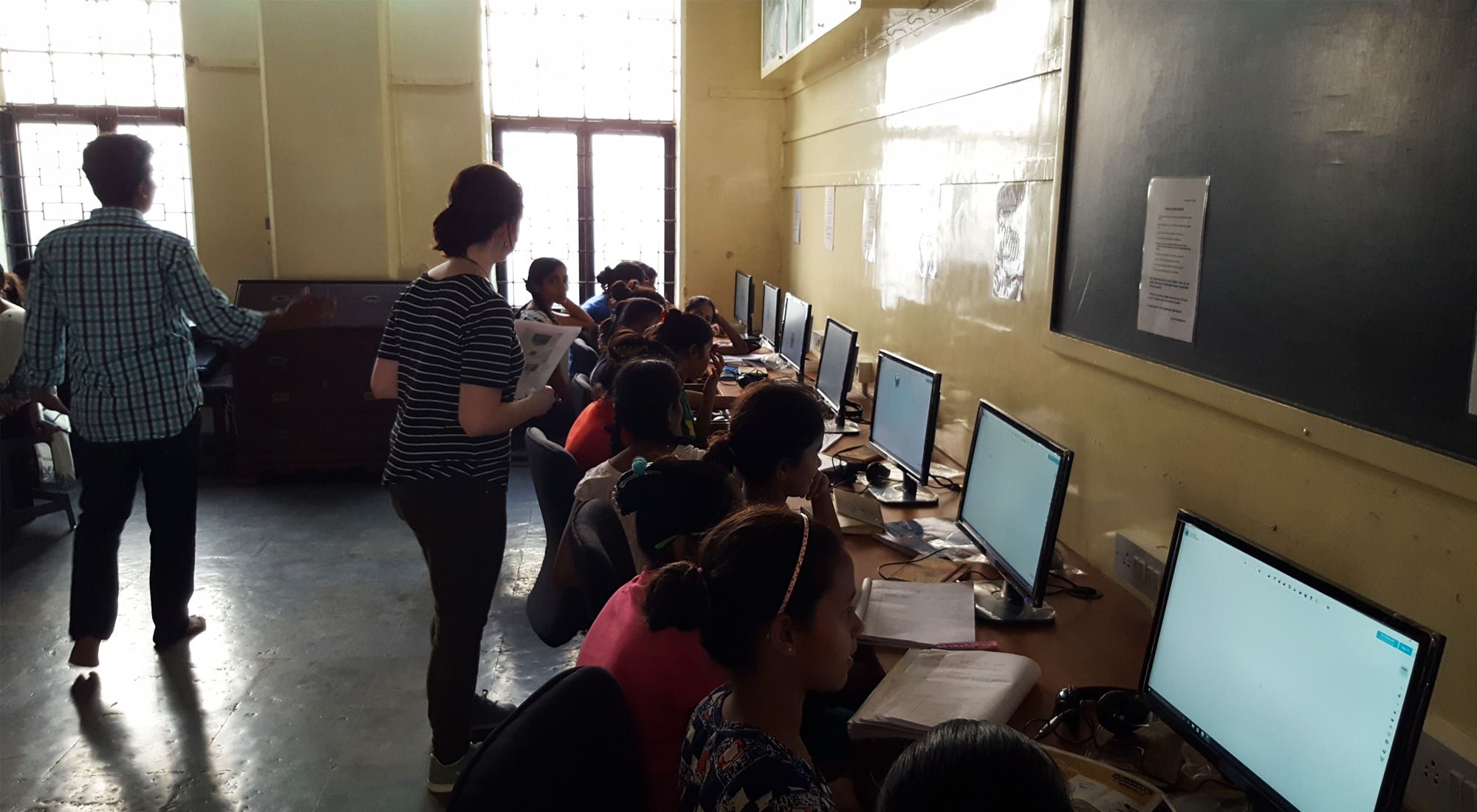 5. How did the women react to the workshops and what feedback did they give?
The women we worked with at the shelter were initially fearful of engaging with computers: mostly they were PC illiterate and very scared of breaking the hardware or getting things wrong. By the end of the first afternoon, they were laughing and comfortable creating and sharing their own designs. It was fantastic to watch the women form groups to help each other learn, create and experiment with different tools and techniques in the CAD software. A few students from each workshop asked for more information on how to continue learning about CAD and 3D printing before we had a chance to pitch our Summer advanced training programme; and the majority of them expressed interest in taking our full course.
6. We know you held a workshop using one of our curriculum products, Makerversity DIY Lesson Plans. Can you talk a bit about how this went and the value you see in Makerversity DIY for schools?
Makerversity DIY is interesting as a curriculum as it focuses on teaching core subjects through making and putting principles in to practice through problem solving. We think this is particularly valuable for subjects such as maths and physics as they can seem abstract and remote when taught through conventional methods. Making the principles relatable and useful for immediate real-world applications can make them easier and more rewarding to learn.
We used Makerversity's cookie cutter design workshop which stepped through the process from CAD to 3D print in a straight forward and well-illustrated way. This helped as language barrier could often be a problem when teaching, even with the support of volunteer translators. Initially, some course material we used we had expected to take 1 hour and it ended up taking 3 hours!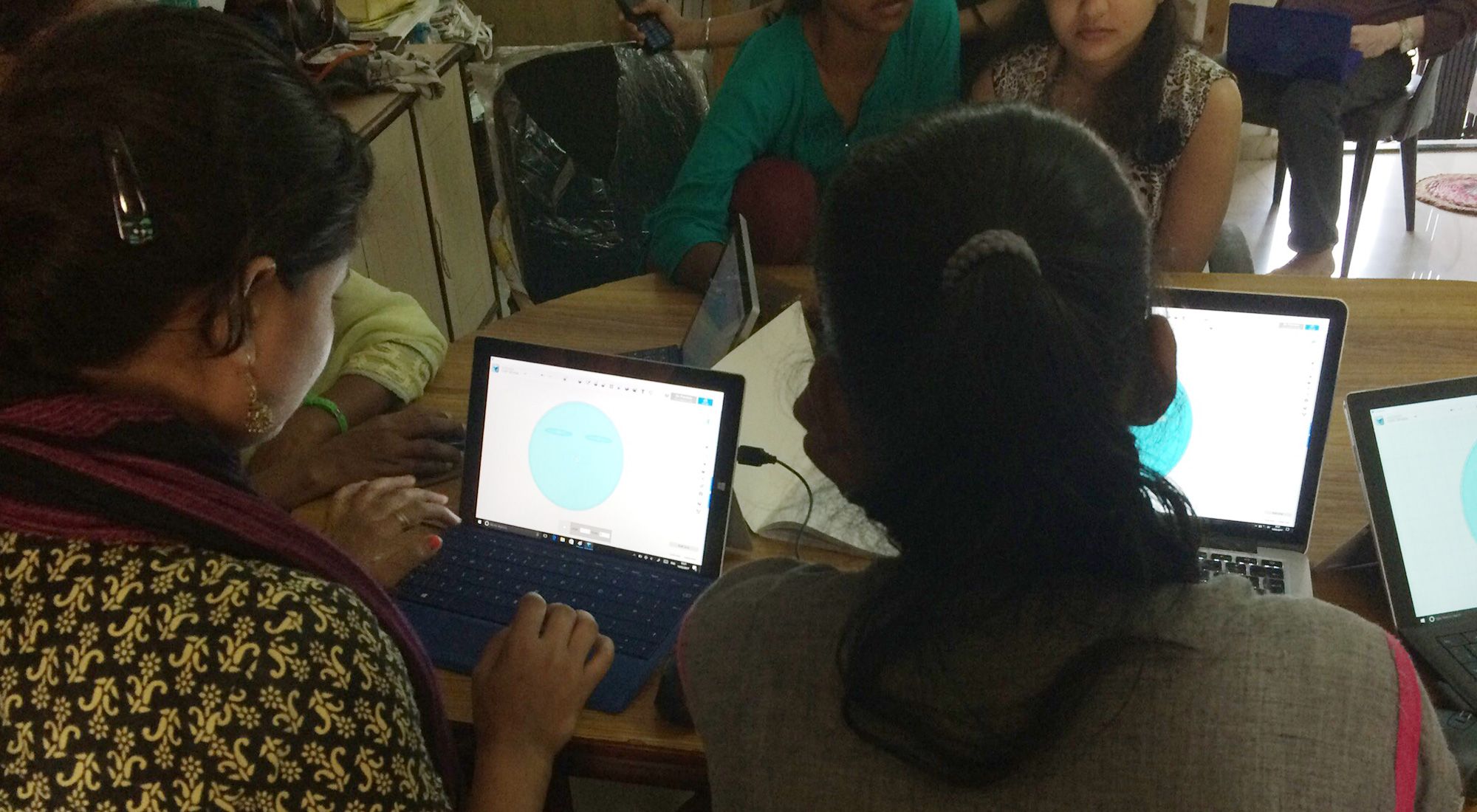 7. We truly believe in the Free_D vision and we're excited to see what's next from you. Can you give us some insight as to what's next for Free_D?
In 2017 we're focusing on building the infrastructure and network to make our mission possible. Over the coming months we are fine tuning our course content so that in Q3 2017 we can set up an academy in Mumbai to train ~10 women into artisan jewellery makers. We will be skilling them in the full workflow from concept to finished piece including design thinking, use of CAD, 3D printing, lost wax casting and finishing. This facility will be ready to take pilot orders from the beginning of 2018, with apprentices earning a fair trade wage for time spent learning and making.
We are looking for partners and advisors who could support the set up and ongoing development of our centre and the training material we use. We were so lucky to have very early and ongoing support from the Printlab team, (always just a phone call away – providing remote hardware problem solving throughout our trip, regardless of the time difference! Thanks Jason!). The more varied the expertise and insights behind the team, the more likely we will be to achieve our mission.
—
It was a great honour to be part of this amazing initiative and we're happy to say that we've already been discussing our next venture with Free_D!