Make:able 2023 Judging Panel
The Make:able 2023 submissions are in and as always, we have been amazed by the hundreds of 3D printed assistive technology solutions created by students and makers around the world. Today we have the pleasure of introducing you to this year's judging panel – a diverse group of experts in the fields of design, assistive technology, education and 3D printing. We are truly honoured to have so many inspirational people supporting the Make:able Challenge, so a big thank you to all of them!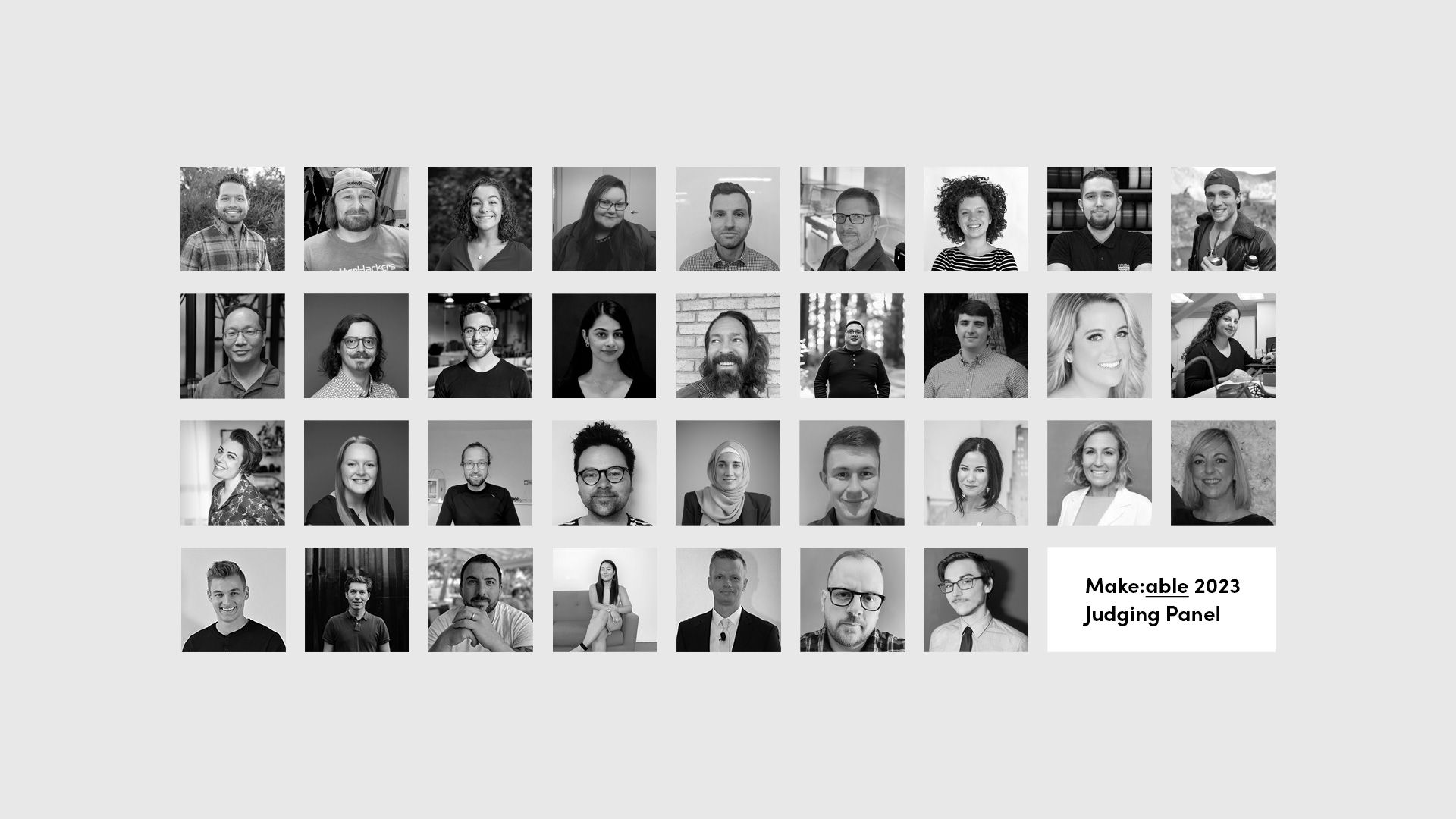 9th May 2023 • Make:able
Before we introduce our judges, here is an overview of the judging process. *Please note that we have adjusted some of the dates from the brief. However, the winners announcement date remains the same.
• 1st May – 15th May 2023: Team PrintLab will review all submissions and create a finalist shortlist of approximately 5-6 entries per award category in each of the 3 age groups. The finalist shortlist will be announced by email on the 15th May and consist of the entries that excelled the most in the design criteria relating to the award category.
• 15th May – 15th June 2023: The expert panel of judges will be invited to review the finalist submission videos. Each judge will be allocated a specific award category and will cast votes for a 1st and 2nd place. 1st place will receive 2 points and 2nd place will receive 1 point. An online voting platform will be used where judges can view submissions, cast votes and make comments. You can view last year's judging platform here.
• 15th June – 1st July 2023: Once all judges have cast their votes, they will be counted and a winner will be selected for each category and age group. Winners will be announced by email on the 1st July and soon after, prizes will be delivered!
If you have any further questions about the judging process, feel free to reach out to us at hello@weareprintlab.com. And now, let's meet the Make:able 2023 judging panel…
Best Showcase of Empathy
Andy Lin – Rehabilitation Engineer at Rancho Los Amigos National Rehabilitation Center
Neal McKenzie – Assistive Technology Specialist at Sonoma County Office of Education
Grace Ambroze – Accessibility Lead at Rehab Tech Summit
Hala Rahmany – Creative Manager at Ya Khadijah
Hanalynn Hunt – Occupational Therapist at Rancho Los Amigos National Rehabilitation Center
Ruba Hasan – 3D Design Manager/Founder at 3Dinova
Best Creative Idea
Allie Katz – Creative Technologist
Adam Hecht – Co-Founder and Designer at DiveDesign
Ed Charlwood – National Lead Practitioner (D&T) for the Oasis Learning Trust
Kevin Kennedy – Founder of Product Design Online
Phil Holton – Senior Qualification Manager at Pearson
Julien Vaissieres – Co-Founder at Batch.Works
Best Use of Autodesk Software
Steven Parkinson – Senior Program Manager Human Centred Design – Autodesk
Simon Leigh – Senior Manager Industry and Portfolio Marketing – Autodesk
Curt Chan – Manager, Vocational Education – Autodesk
Lauren Ryland – Senior Product Marketing Manager, K-12 Education – Autodesk
Elliott Griffiths – Technical Specialist, Advanced Manufacturing and 3D Printing – Autodesk
Best Showcase of Customisation
Josie Versloot – Mechanical EIT at Makers Making Change
Heather Buerfeind – Outreach at Makers Making Change
Stephan Dobri – Mechanical EIT at Makers Making Change
Gabriella Cammarata – Industrial Designer & Senior Technician at NYU's Tandon School of Engineering
Caleb Kraft – Senior Editor for Make:Magazine
Best Use of 3D Printing
Daniel Koren – B2B Team Lead at Prusa Research
Pavel Pelcak – Prusa Education coordinator at Prusa Research
Mark Chester – Product Development Specialist  – PrintCity Network
Christina Perla – Co-Founder & CEO at Makelab
Adam Williams – Production Specialist at Makelab
Melinda Babják-Kis – Sales Director Europe at Craftbot
Best Showcase of Iterative Design
Ryan Ball – Director of Education at Design and Technology Association
Dave Gaylord – VP of Products and Technology at MatterHackers
Jeremy Simon – Founder & CEO of 3D Universe
Alanna Raffel – Assistive Technology Specialist and Occupational Therapist at TechOWL
Thomas Matthew Diagostino – Senior Assistive Technology Program Coordinator at TechOWL
Michelle Chatterley – Head of CREATE Education Project
As mentioned above, we'll be announcing the finalists on the 15th May so keep an eye on your emails! In the meantime, don't forget to follow us on Twitter as we'll be releasing some sneak peeks of the solutions over the next week.