PrintLab Launches New 3D Printing Learning Platform
Over the past few years, we have supported thousands of teachers in guiding students through the full creative process to make their own unique products - from personalised homeware to architectural models, assistive technology and many other solutions that benefit from the customisation that 3D printing offers. As PrintLab continues to grow, we are delighted to announce the launch of our new and improved 3D printing learning platform, which will replace our current offering.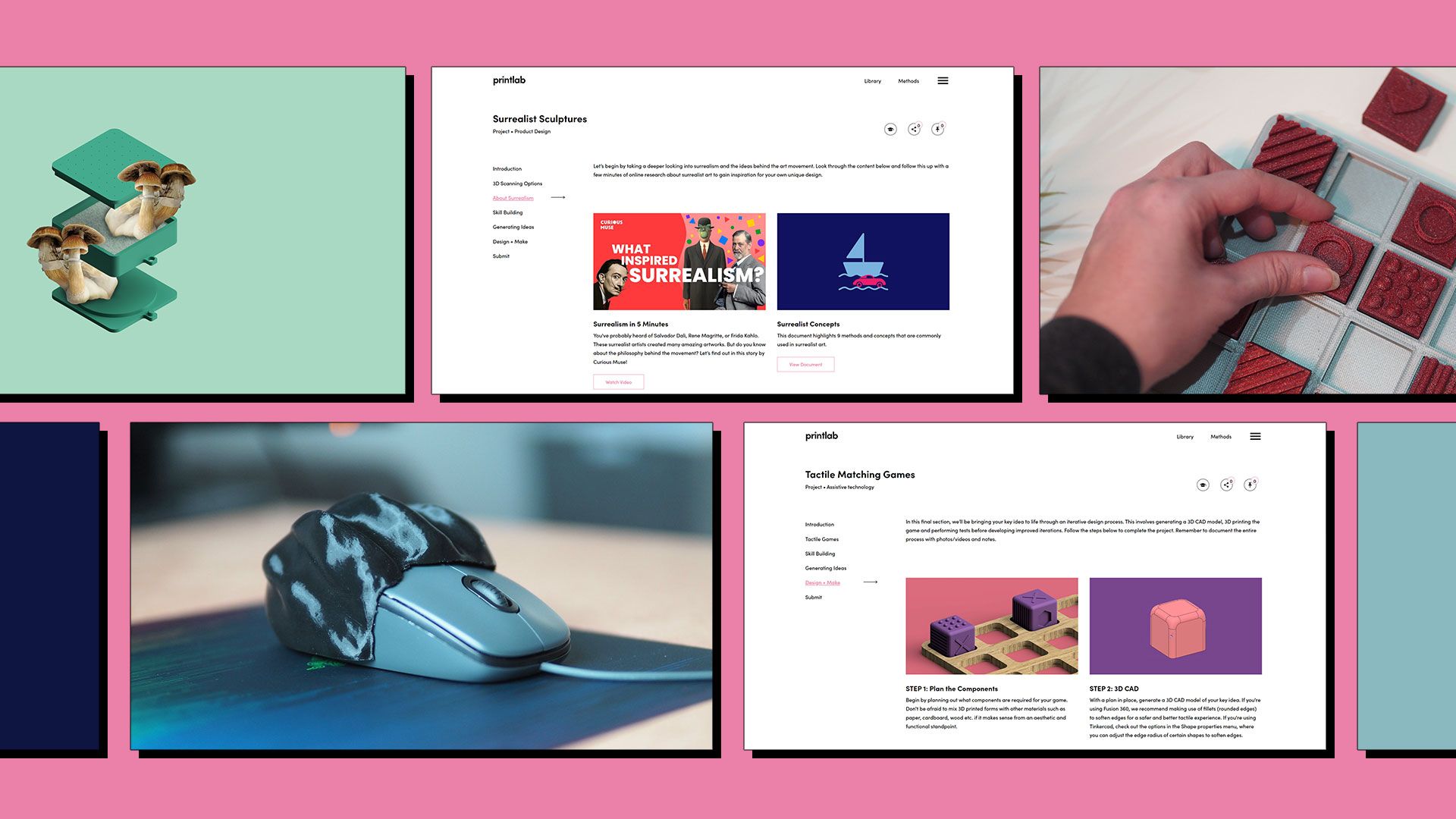 1st August 2023 • News
We've always made our best efforts to listen to any and all feedback. Our new developments are the result of this feedback and we are truly grateful to all our pioneers, subscribers and industry partners who have helped shape the next chapter for PrintLab. At the end of this blog, we'll be inviting you to a free trial of the new platform but let's take a quick look at the key improvements we've made:
Rather than having a teacher portal and a student portal, both portals are merged into a single streamlined website.
The learning platform for each project comes with a teacher instructions popup on each section, outlining an example lesson plan that can be followed, as well as curriculum alignment documents and an assessment rubric.
Teachers will now share resources with students in a much simpler way. Simply find a resource in the library, generate a share link and send it directly to students to give them instant access to the learning platform (no logins required).
Current projects have been updated with new and improved content. This includes new introduction videos, options for voice over or text based Tinkercad/Fusion 360 video tutorials, google slide portfolio templates and new graphics/animations.
A new design method toolkit filled with design-thinking and problem-solving activities, which can be used to adapt projects.
Due to high demand, we've introduced a new 'personal use' license option for hobbyists, makers and professionals. This license provides full access to the PrintLab platform but without teacher instructions and sharing permissions.
In addition to developing the new platform, we have also grown our team, which means new content will be added to the platform on a much more regular basis.
We're going to keep this blog short as we'd love for you to try the platform for yourself! If you have an existing PrintLab subscription, you should have been sent an email with a coupon to access the new platform. If you did not receive this, please email hello@weareprintlab.com to request your coupon.
If you don't have a PrintLab subscription, head over to our license options page and select the relevant trial. Don't worry if you've had a trial to PrintLab in the past, all trials have been reset to ensure you can still try out the new platform.
Finally, we'd like to say a big thank you to our entire community. We are excited to grow the new platform and continue listening, learning and evolving!
Join us in using 3D design and 3D printing to make unique products that bring value to the world